So. Burlington, VT  (March 7, 2016 )– LPA Design, manufacturers of PocketWizard Photo Products, the world leader in reliable wireless control of cameras, flash lighting and light meters, announces  that the new PocketWizard Plus IV Transceivers first announced last fall, are now shipping to retailers in the United States.
PocketWizard now offers the best of both worlds in one easy-to-use, reliable wireless trigger. The Plus IV Auto-Sensing Transceiver provides photographers with the benefit of on camera TTL flash combined with remote manual flash. When used as a transmitter, the top shoe provides on camera TTL compatibility with most Canon, Nikon, Panasonic, Fuji and Olympus cameras and flashes. When used as a receiver, the top shoe pairs with virtually any speedlight for easy mounting and manual power adjustment of a remote flash. Built on the reliability and simplicity of the PocketWizard PLUS legacy line of products and loaded with numerous features and functionality, the Plus IV Transceiver is the "go to" radio when a fast set-up is required.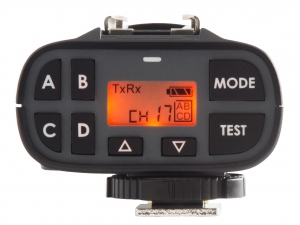 "Serious photographers understand the benefits of controlling the light at the time of exposure, both in-studio and on location," said Karen Marshall, CEO of LPA Design, the U.S.-based manufacturer and distributor of PocketWizard products. "I'm delighted that PocketWizard engineers have been able to add TTL pass–through, for use with on-camera flash, and a metal foot and applied it to our time-tested technology, offering our users even greater versatility."
The Plus IV includes performance enhancing features such as Long Range and Repeater Modes to help photographers tackle the most challenging shooting environments, opening the door for never-attempted image ideas.  All features, channels and zones can be easily set using the soft-touch keypad and are clearly displayed on the backlit LCD display.
The new Plus IV looks like a Plus III on its side, with the most requested features added in.  However, the Plus IV is not a replacement for the Plus III, rather they've been designed to complement each other.  For example, an ideal set-up might be a Plus IV for on-camera flash in TTL mode, another Plus IV with a speedlight mounted in manual mode and two Plus IIIs connected to studio lights.  The Quad-Zone feature in both the Plus IV and the Plus III allows photographers to easily turn their remote flashes on or off directly from the camera, and either create different looks or work in different areas.
The versatile new PocketWizard Plus IV is compatible with all other PocketWizard radios and virtually every popular flash and professional digital SLR camera system. The standard ISO compatible hot shoe can accommodate almost any speedlight for simple manual triggering, including newer Sony models. It also communicates with all PocketWizard-enabled photo gear including select Profoto, Dynalite, Norman and Photogenic flash systems and Sekonic light meters.
The new PocketWizard Plus IV Transceiver is now available at Retailers in the United States at an MSRP of $153.00.